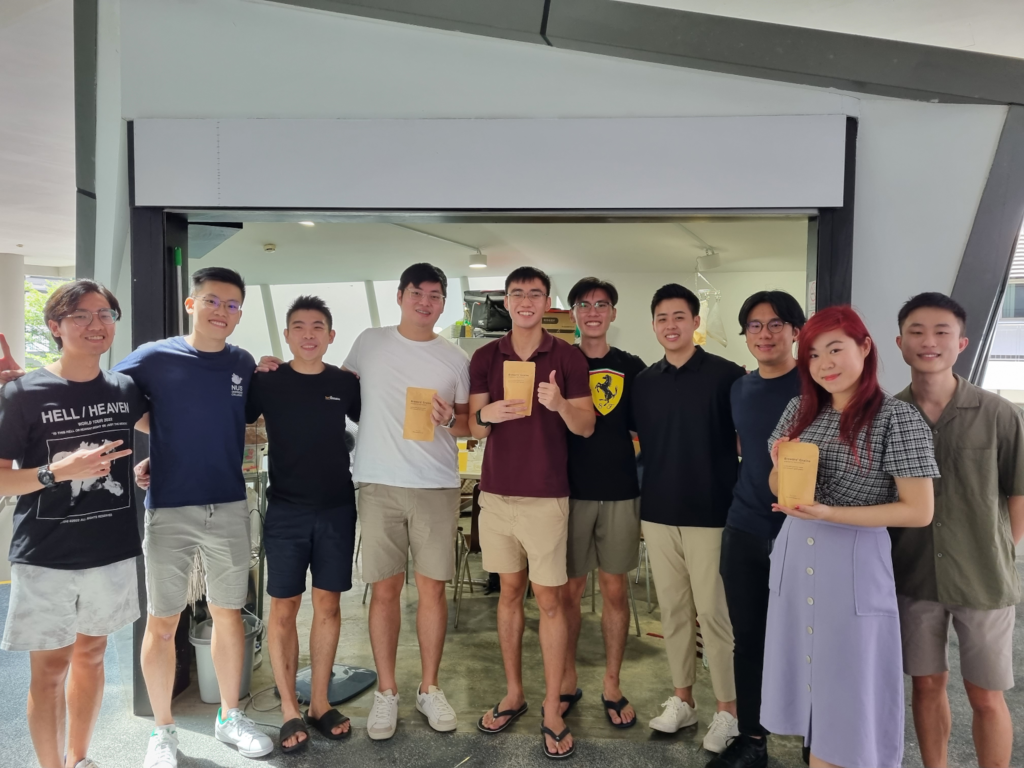 the moonbeam co. recently hosted a Breakfast and Brew for student entrepreneur founders! Let's take a dive into what Breakfast and Brew is, and who has connected!
What is Breakfast and Brew?
Breakfast and Brew is a community initiative by the moonbeam co. that aims to connect stakeholders from the startup community by way of a sustainable breakfast. Through small circles, we aim to foster strong connections and collaborations within the startup ecosystem.
Who?
Let us take a look at the Singapore-based startups and their student founders who attended Breakfast and Brew.
Protege Ventures, Yu Qi Tan
Write Brothers, Lim Hng Yi
I'm Friendly Co, Jedaiah Chen
And here's a guide on who's who…
What is MarinaChain?
MarinaChain is a startup focusing on maritime decarbonisation. Their goal is to simplify the process of reporting emissions from various companies. Through the utilisation of comprehensive carbon services and their software, MarinaNet, they encourage maritime stakeholders to effortlessly comply with regulatory obligations and demonstrate their unwavering dedication towards sustainability.
Who is Sean Lew?
Sean Lew is the chief product officer at MarinaChain. He is a mechanical engineer based in the world of product management and Web 3. Having graduated from National University of Singapore (NUS) Mechanical Engineering, robotics specialisation; Sean brings his skills over to business development within the entrepreneurship circle.
What is Protégé Ventures?
Protégé Ventures is Southeast Asia's first and Singapore's only student-run venture fund to help young student entrepreneurs. Their modus operandi, "for students, managed by students" speaks volumes to their mission to empower student founders and groom the next generation of venture capital leaders within the industry.
Who is Yu Qi Tan?
Yu Qi Tan is an analyst within Protégé Ventures. He scouts and analyses various startups to invest in, in hopes to empower student founders to scale their businesses to the next level. Hailing from NUS Computer Science, Yu Qi is well-versed in software development and even taking time to impart this skill to others through tutoring within NUS and other academies.
What is Write Brothers?
Write Brothers uses handwritten solutions to increase a businesses' personal touch to improve brand loyalty. Write Brothers uses automation machinery to handwrite cards in the hundreds and thousands. Their product ranges from detailed calligraphy fonts, card designs, personalised handwritten messages all down to envelopes. As a compelling brand narrative, there are names attributed to their specialised machines. Wilbur is their hardworking robot that physically produces the handwritten letters. Orville is their software that transmits to Wilbur what to write. What is special is that Orville uses Artificial Intelligence (AI) to learn, recreate and randomise actual handwriting. This results in Wilbur writing letters that are completely dissimilar and unique!
Who is Lim Hng Yi?
Lim Hng Yi is the CEO, co-founder and lead software engineer of Write Brothers. With a background in Computer Science and Design from Singapore University of Technology and Design (SUTD), he has worked in many companies with his expertise. One of his appointments include developing web applications with HTX, an automated sign language recognition and transcription for communication with the deaf. Hng Yi is currently at BlockTech B.V., an algorithmic cryptocurrency trading company where he develops codes.
What is Meydou?
Meydou is a Business-to-Business (B2B) software-as-a-service (SaaS) solution designed specifically for the food and beverage (F&B) industry. Their core belief is that every F&B business deserves a fair chance in the playing field, and they aim to empower them by digitising their operational workflows and delivering valuable data insights.
Who is Denzel Goh?
Denzel Goh is the co-founder of Meydou. He has a comprehensive background in the entrepreneurship space in business development. He is currently also in the Nanyang Technological University (NTU) entrepreneurship program at Picus Capital, driving venture capital scouting and sales lead generation initiatives for deep tech startups. His network is extensive and even more so with Breakfast and Brew, promoting collaboration between student entrepreneurs.
What is MatcHub?
MatcHub is a unique AI-powered platform that matches specific talents with companies based on their career aspirations, personality and work approach. Through this, the recruitment process becomes significantly more efficient and equitable. MatcHub aims to match students to suitable jobs that they would love and truly believes that every individual should discover their passion and pursue their dreams. Due to the nature of AI and the company's values, MatcHub differentiates individuals through skills, personalities and experiences, ensuring that all students are treated equally regardless of race, gender, and religion.
Who is Rayse Yeo?
Rayse Yeo is the co-founder of MatcHub. Not only has she graduated from NUS with a double degree in Business Administrative (First Class Honours) and Economics, she has studied four years of university education in four different countries! Interestingly, Rayse believes personality is a key factor in determining a candidate's suitability for any job. She is an energetic, passionate and outgoing individual with a strong interest in business development, sales and customer relationship management.
What is I'm Friendly Co?
I'm Friendly Co is an anonymous platform where any youth or young adult can turn to and find emotional support, a listening ear, a friend in time of need. A principled platform where individuals can be raw and vulnerable with their emotions through a conversation. A unique aspect of I'm Friendly Co is the relatability of conversations as it is by Singaporean youths for Singaporean youths, legitimised with psychologists and counsellors as advisors. With easy access to the site, the judgement-free platform is backed by a community of trained listeners who genuinely care.
Who is Jedaiah Chen?
Jedaiah Chen is the CEO and founder of I'm Friendly Co. Fuelled by a burning desire to change the youth mental health landscape, Jedaiah and his team set out to create a world where those hurt are heard. A creative soul with a heart for people, he makes a difference through his innovative idea, one meaningful life at a time.
Intrigued?
Through Breakfast and Brew, we hope to foster connections among stakeholders in the startup ecosystem through an environmentally conscious breakfast experience. If you're interested in joining our workshops to meet other like-minded startups and their founders, do drop us a message!