In our previous article, we talked about the several ways that you can eat spent grains, as well as how you can turn spent grain into dog treats.
Today, we will find out if spent grains are beneficial for dogs.
Are spent grains good for dogs?
Spent grains can be good for dogs as they are rich in protein and fibre. They also can be rich in other useful nutrients like vitamins.
In general, these are the dietary guidelines when it comes to dogs:

In addition, Pet MD states that "An adult dog needs at least 10% of its daily calories from protein and a minimum of 5.5% from fats. An adult dog's diet can contain up to 50% carbohydrates, including 2.5% to 4.5% percent fiber." Moreover, pet treats should only comprise 5-20% of a dog's diet, according to the American Society for the Prevention of Cruelty to Animals.
So far, not much research has been done on whether spent grains are beneficial to dogs. However, preliminary studies have found that spent grains are high in protein and fibre content, with "approximately 20% protein and 70% fibre" and "less than 30% of dry matter and 70-80% moisture content".
Moreover, each kilogram of spent grain "contains 258 g crude protein (CP), 133 g crude fiber, and 495 g total dietary fiber (TDF) per kilogram" which makes it a nutrient-dense treat for dogs.
Furthermore, spent grains are rich in antioxidants, vitamins and probiotic bacteria, resulting in enhanced immunity against diseases and better intestinal health.
Nonetheless, the caveat is– spent grains go bad very easily. Hence, you have to make your dog treats preferably as soon as possible after brewing.
In addition, they can only be stored in the fridge,"in an airtight container for up to a week". Other methods include freeze-drying your spent grains.
No time to make your own spent grain dog treats? These brands make juicy and mouth-watering dog treats for your dog.
1. Spent Grain Dog Treats by Growlers Dog Bones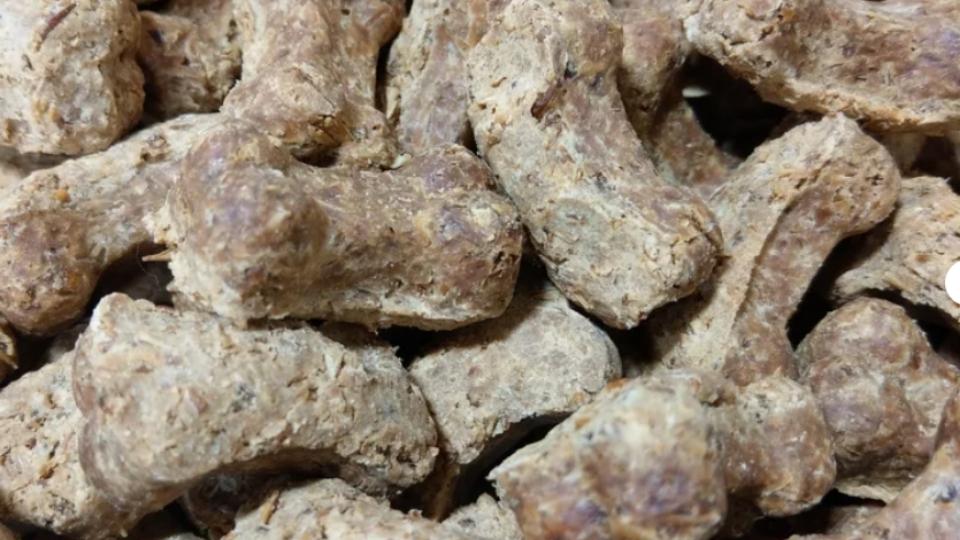 Growlers Dog Bones is a company specialising in dog treats which aims to empower people with disabilities and provide vocational training opportunities to them. They collaborate with many microbreweries to manufacture dog bones made of spent grains and each brewery has their own product to offer.
The ingredients include: Spent grain from Columbus-based breweries, peanut butter, eggs, and rice flour.
Their list of partners can be found here: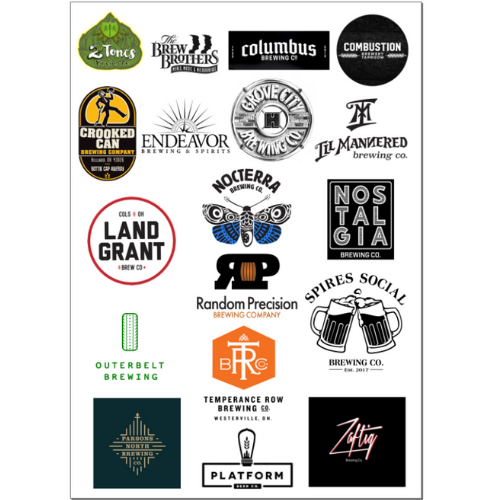 The recipe seems to be standardised across all the breweries, comprising of:
| Nutritional facts | Percentage |
| --- | --- |
| Crude protein | 10.5% minimum |
| Crude fat | 7.75% minimum |
| Crude fibre | 8.50% maximum |
| Crude moisture | 10% maximum |
The prices are listed below:
Product
Price
6-ounce bag
$8
16oz ground Peanut Butter
+ 15 oz Growlers Dog Bones
$20
Leader of the Pack 4 Growlers
Original Dog Bones (4-6 Ounces each)
$32
Bulk Growlers
Original Dog Bones(30 ounces)
$32
2. Spent Grain Pumpkin Spice Dog Treats by the House of Dog
As a pet owner, you may be worried about alcohol poisoning since spent grains are the byproduct of brewing beer and alcohol-related beverages. Nevertheless, you can be rest assured that House of Dog's dog treats are alcohol-free and preservative-free, just like the other commercial brands on the market. This is because the spent grains are separated from the wort before it undergoes the fermentation process using yeast to make alcohol.
Their ingredients include:
Spent Brewer's grain
Whole wheat flour
Pumpkin
Egg
Cinnamon
Ginger
which definitely adds a unique taste to their product.
Unlike Growler's Dog Bones, the product includes higher levels of crude protein and crude fat, as well as lower levels of crude fibre and moisture.
| Nutritional facts | Percentage |
| --- | --- |
| Crude protein | 18% minimum |
| Crude fat | 14% minimum |
| Crude fibre | 5% maximum |
| Crude moisture | 8% maximum |
Price: $10.99 USD for 7 oz
Can spent grains be bad for my dog?
It can be if it is contaminated by hops. as hops used in beer brewing can be poisonous to dogs. However, as spent grains are removed after the meshing step, it is highly unlikely that it happens.
In the scenario where your dog ever ends up ingesting hops, it might cause malignant hyperthermia (medical emergency) which would result in a rapid increase in your furry friend's body temperature. Other side effects include "panting or fast breathing, stomach upset (vomiting or diarrhoea), agitation and an increase in heart rate". Some breeds of dogs are more prone to developing this severe condition, including:
How long do spent grain dog treats last and what is the best way of storing them?
Most commercial dog treat brands did not mention the shelf life of their spent grain products. On the other hand, the Homebrew Academy mentions that if you "store your homemade spent grain dog treats in an airtight container, they should last for several weeks".
Conclusion
There are brands that are trying to make spent grain dog treats. By buying a bag of spent grain dog treats, you get to kill two birds with one stone- helping to support environmentally-friendly causes while improving your canine's health at the same time.
Love what we do and what we stand for?